The federal Family and Medical Leave Act allows workers up to 12 weeks a year of unpaid leave to take care of family or medical issues. The law permits a worker to take off time from work at different times, instead of continuously. This is known as "intermittent leave."
As a result, courts around the country have been asked to define when absences from work qualify under the FMLA.
Two recent court decisions limit when an employee"s time away from work qualifies as intermittent leave protected under federal law.
In one case, a federal trial court judge in Maine ruled that the FMLA does not protect chronic tardiness as intermittent leave – even if a doctor later concludes the tardiness was due to a medical condition.
A worker was fired for chronic tardiness and absenteeism throughout her employment as a nurse technician.
Although the employer repeatedly told the woman it was important to arrive on time, she was late or absent 52 times in the first five months of employment. She told her supervisor that her chronic tardiness was due to fatigue and depression and that she believed she had lupus.
While doctors documented her chronic fatigue, they didn"t provide a definitive diagnosis and never told her that her symptoms prevented her from working.
After being fired, the woman sued, claiming her employer violated the FMLA by failing to tell her she could treat the time she was late as intermittent leave under the law.
But the court said the FMLA was not meant to protect chronic tardiness in and of itself.
In the other recent case, a federal appeals court ruled that holidays that fall during time taken off under the FMLA do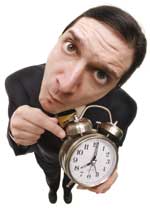 not automatically extend the leave.
In the case, a university employee requested intermittent leave to care for her ailing mother during two separate periods of three to four weeks each. The university approved her request, although it told her it would consider her to have resigned voluntarily if she didn"t return as scheduled.
During the leave period, she told her supervisor she planned to extend her leave by one day in light of an internal work holiday the university trustees had granted to employees.
Despite her supervisor"s insistence that she return as originally scheduled, the woman failed to do so. As a result, her supervisor concluded she had voluntarily resigned.
The employee sued, claiming the university miscalculated her leave period in violation of the FMLA. She argued the university should have extended her leave to account for three holidays that fell within the leave period, including the internal holiday.
But the federal appeals court in Massachusetts disagreed and sided with the university. The court said federal law states holidays that fall during leave do not extend the leave.