BALTIMORE EMPLOYEES THANK MARYLAND SENATOR BARBARA A. MIKULSKI
August 29, 2006
On August 29, 2006, a group of EEOC employees from the Baltimore "Field" Office were thrilled to have the great opportunity to visit and to personally thank Senator Barbara A. Mikulski for her work on the U.S. Senate appropriations committee to increase EEOC's 2007 budget by $4.1 million, block further funding to the National Call Center, and restore EEOC's Baltimore office to a district office.
After Local 3614 President Regina Andrew presented Senator Mikulski with a gift of artwork autographed by Local 3614's Baltimore members, the group shared with Senator Mikulski their concerns about Baltimore's shrinking staff, increasing workloads, and problems with National Call Center. Senator Mikulski referred to the National Call Center as the "wrong number" for victims of discrimination and reaffirmed her full commitment to continue supporting EEOC's mission eradicating discrimination in the workplace. Senator Mikulski expressed her belief that staffing and appropriate funding levels for EEOC's Baltimore office should be commensurate with Maryland's growing population. The meeting concluded with much optimism that EEOC's Baltimore office will soon be a fully staffed district office again with its own District Director and Regional Attorney.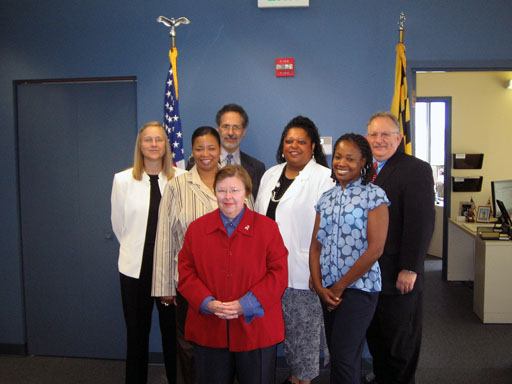 Regina M. Andrew (Local 3614 President and EEOC Trial Attorney); Nicole Chandler (EEOC Investigator), David Norken (Local 3614 Secretary/Treasurer and EEOC AJ), Mattie Whitfield (EEOC Investigator), Monique Murray (EEOC Investigator), and Charles Shubow (EEOC AJ).