AFGE Thanks Senator Mikulski for Efforts to Save Baltimore EEOC Office and Nix EEOC Budget Cuts
Friday September 1, 2006
AFGE owes a huge debt of gratitude to Sen. Barbara Mikulski (D-Md.) for her efforts to save the Equal Employment Opportunity Commission (EEOC) from a disastrous budget cut and refocus priorities on frontline service for victims of workplace discrimination.
Senate appropriators, led by Sen. Mikulski, recently restored the EEOC's funding to last year's enacted level of $327 million, rather than adopting the administration's request to cut funding by $4 million. In a strongly-worded report, Senate appropriators expressed concern over the rising backlog of discrimination charges at the agency and highlighted that the "committee's recommended funding levels will result in an increase in resources to the field, where the vast majority of the work gets done."
Additionally, Senate appropriators also reversed the agency's decision to downgrade the Baltimore EEOC office, thereby "restoring" it to the level of a district office.
"Sen. Mikulski has fought tirelessly for adequate staffing and resources for the EEOC," said Gabrielle Martin, president of the AFGE National Council of EEOC Locals No. 216. "We are a small agency, but we do terribly important work, which Sen. Mikulski understands. Sen. Mikulski has succeeded in averting a crisis that would have endangered the rights of workers in Baltimore and around the country."
House appropriators did not include similar language in their funding bill for EEOC. The two chambers will resolve their differences over the EEOC's restructuring effort during a House-Senate conference that is unlikely to occur until after the November elections. AFGE activists should encourage their lawmakers to support Sen. Mikulski's language.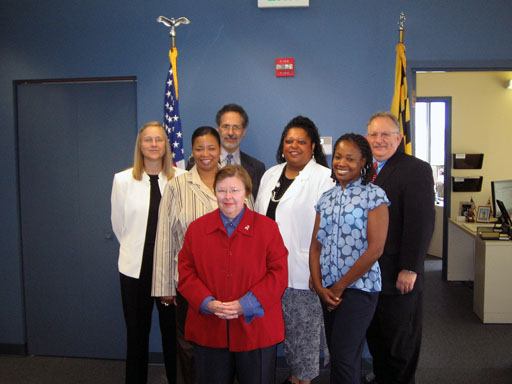 Members of AFGE's EEOC Local in Baltimore flank Sen. Barbara Mikulski from Maryland after thanking her for all of her work to prevent the EEOC restructuring effort.